Find Us For Metal Structure Design and Fabrication Services! (Miri Based)
It is at no big surprise that here at TKR Engineering we provide metal structure design and fabrication services. Metal structure design and fabrication services are an important part of civil engineering. It is one of our services that we are really proud of providing for our client base.
We have previously touched on metal structure design and fabrication before. Structural steel fabrication is a process used by civil engineers when it comes to building constructions. The process includes bending, cutting, and shaping steel to make a steel product. Fabricated structural steel is not your regular kind of welding where the steel is strengthened and repaired. That's not what steel fabrication is meant to do. It simply means that engineers use several pieces of steel are combined together to form different structures of pre-established shapes and sizes.
Not every engineer is skilled in structural steel fabrication. The process of structural steel fabrication needs well-trained and experienced technicians who are able to take raw elements and turn them into marketable products. You may really need help and assistance from structural steel fabricators at home. Especially when let's say, you want to build a staircase made of structural steel.
Here at TKR Engineering, we focus on three (3) basic steps. Here they are:
Design Process
Steel Structure Fabrication
Blasting and Painting Work
Read on to find out how we handle each step here.
Design Process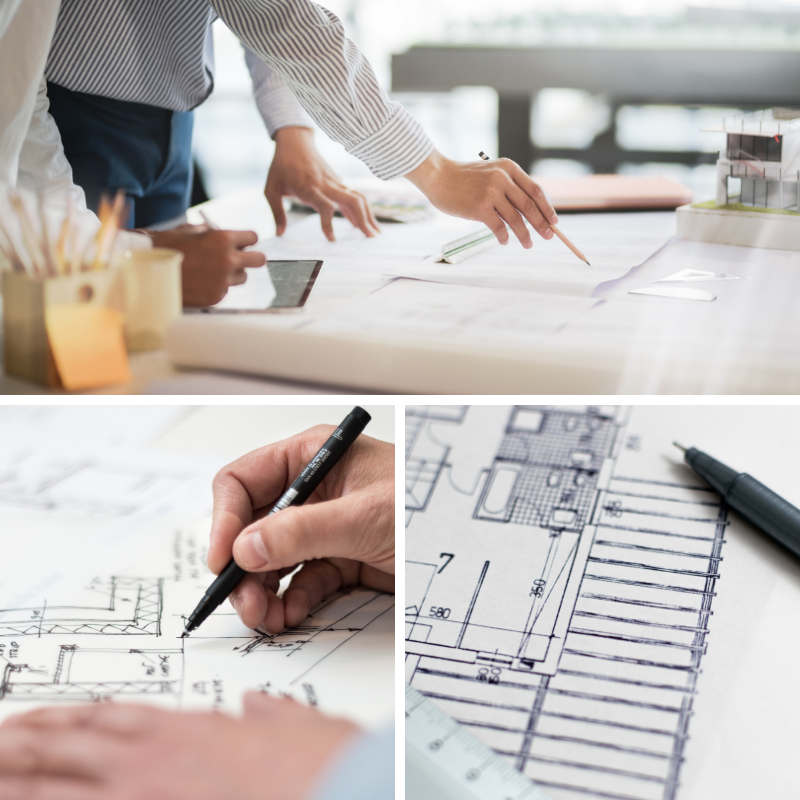 This is the very first step in metal structure design and fabrication services. This is where we come up with the building structure's blueprint and planning.
Step 1 – Ideation
The ideation stage can be as creative or as standard as the client wants it to be. When you team up with a fabricator who provides custom structural steel solutions, you have the freedom to order unique pieces that are specific to your project. Whether you need beautiful, handcrafted ornamental rails or straightforward caged ladders, a custom fabricator can stick to your exact needs.
Step 2 – Blueprint or Drawing Creation
During the ideation stage, your vendor will listen to you and draw up blueprints using specialized engineering software. You can come prepared with your own blueprints or drawings for this stage too if you wish. Review your vendor's blueprints to authenticate correct requirements, code compliance, and specifications.
Step 3 – Convert Blueprints into Building Drawings
Your vendor will convert project blueprints into building drawings for the completion of the order. The building drawings and plans will follow the logistics of your project, such as deadlines and budget. Shop drawings are what the manufacturer uses to bring the blueprints to life.
Step 4 – Cut and Drill Steel Beams
The vendor will usually have special tools, such as saws, shears, lasers, punches, notches, and plasmas to cut and drill the steel beams according to project blueprints. Engineering companies can use tools such as the Ficep 1003 DDVD VanGuard Drill Line for this stage of the process. This advanced equipment produces higher quality results and are usually faster.
Step 5 – Piece Etching
Your vendor will engrave each piece with a unique part number and plate location. This makes the final assembly on site fast, convenient, and accurate. It also helps eliminate any costly mix-ups and project delays.
Step 6 – Component Assembly
As soon as your vendor finishes cutting and forming the components of your project, the team will weld and assemble the pieces. During this stage, the fabrication team will check regularly to ensure all pieces assemble correctly and match order specifications.
Step 7 – Custom Part Machination
If you request any custom metal fabrication, your vendor will create custom parts during this stage. Custom parts are superlative when you need components to fit a specific structure or product. You may need custom part machination if standard looks or sizes aren't appropriate for your project, either in function or aesthetics.
Step 8 – Complete Assembly
Your organisation will complete a full assembly of your project, if possible. In some cases, the partial assembly may be applicable. Complete assembly ensures all parts of the order are present and working well. Changes at this stage are quite rare and only occur if there has been a mistake in one of its previous steps.
Step 9 – Shipping Preparation
After a successful complete assembly, the team will disassemble the project and prepare mechanisms for either finishing or direct shipment. Your organisation should do this as quickly and efficiently as possible, packing the components in a way that makes project erection at the site easy.
Step 10 – Component Finishing
If you request special paint, powder coat, sandblasting, or another finish, your organisation will apply this last. Industrial assemblies often need a certain finish to comply with federal regulations and compliance codes. Your vendor should have some of the latest technology to apply the finish of your option with ease and finesse.
Step 11 – Project Ships to Site
At this point, your project should be complete! Your vendor will follow your previously agreed-upon shipping procedure, sending your completed, disassembled components directly to your site location. Ask for tracking details to make sure that your project arrives on time.
Step 12 – Erection of Final Project
As soon as the components arrive, your construction team erects the final project. Your vendor will have made assembly easy, with manufactured components that fit together with minimal labour needed.
Steel Structure Fabrication
After the design process comes the structure fabrication part. We have invested in high tech CNC types of machinery to increase production efficiency, productivity, and accuracy in structural steel products fabrication. At the same time, we also own a CNC machine, high-tech drilling machine, plasma cutting machine, arc welding machine, and software for drawing.
Some manufacturing workers like their jobs mega-sized. Structural metal fabricators and fitters build enormous metal objects, from tanks and water towers to frames for buildings and bridges. Though the projects may be massive, the work is quite precise.
Following blueprints or drawings, they come up with patterns to build metal parts. They use a wide array of hand, electric, and hydraulic tools to align and fit parts to specifications. They also use special machinery to cut the metal into the needed pieces or plates. Other equipment is used to punch, roll, or straighten the pieces before they are put together.
After defining the sequence of tasks needed to fit all the parts together, they weld, bolt, or nail the units to assemble parts into a whole. They may operate hoists or cranes to move big parts. Fabricators and fitters often work indoors in huge, loud environments. Installation at outdoor construction sites may need work in extreme temperatures.
Common Process of Metal/Steel Structure Fabrication
Fabrication is a term used for several different methods of operating metals into different shapes. Metal fabrication is the process of turning the raw materials such as metals or alloys like structural steel into determined shapes. Those shapes are for assembling to erect a custom prefabricated building to meet the demands of any commercial and industrial projects. Metal fabrication helps bring any kind of customisation in a prefabricated building. Here are some different fabrication processes or systems usually used by engineering firms.
Cutting
Cutting is one of the most common process in the fabrication process. The raw material such as structural steel is taken and split into the needed amount (halves, thirds, or smaller sections). The most primogenital method to cut the raw materials is using a saw. However, now there are new methods such as powerful corded drills, plasma, water jets, or laser cutters, to slice the metals and create new shapes out of the raw materials.
Machining
This is a kind of fabrication process that involves removing the excess material until the final anticipated shape is achieved. There are many machining types, such as:
Drilling– It involves the process of making cylindrical holes in a metal piece using a drill bit.
Turning– It involves the removal of extra material from a workpiece that is spun by the lathe.
Milling– It involves the use of a revolving cutting surface comprised of several blades that create non-circular holes or unique designs in a workpiece.
Punching
The process of punching involves the development of holes in a piece of metal. That piece of metal is placed under the die and acquiesced by a punch-through by a drill. The circumference of the drill must slot appropriately through the die to get the correct size of the punch. Sometimes the holes are used to fasten while other times the portion detached is the needed product (blanking).
Shearing
Shearing is a process where the metal sheet needs a long cut. In some cases, the sheet is applied horizontally via a metal-cutting machine. In some cases, a cutting tool is applied vertically against the length of the metal sheet. It is usually applied to trim down the edge of a metal sheet.
Folding
Folding is a complex process in metal fabrication where a metal surface is wrought to shape to a certain angle. The purpose of folding metal is to offer a blunt surface to the metal surface. Folding is performed in facilities that are equipped with specific and high-tech equipment due to the complex process.
Stamping
Stamping helps to convert the flat metal sheeting into different shapes. Although the process is similar to the process of punching, stamping does not cut the material. Stamping uses the die that causes the material to be raised instead of cutting the metal. For example, metal stamping is used on coins where you get to see the words, currency amounts, and face of presidents stamped on it.
The fabrication processes are the most common processes used during prefabricated building construction. The option of the fabrication process depends on the needs of a particular application and will often vary especially when you require customised prefabricated solutions.
Blasting And Painting Works
Blasting and painting works is the third and final part of the metal structure design and fabrication process.
Blasting is the operation of forcibly pushing a stream of abrasive material against a surface under high pressure to smooth a rough surface. It can also help to roughen a smooth surface, shape a surface, or remove surface contaminants. A pressurized fluid, usually compressed air, or a centrifugal wheel is used to propel the blasting material (often called the media).
There are several types of the process, using various media; some are highly abrasive, whereas some others are milder. The most abrasive ones are shot blasting (with metal shot) and sandblasting (with sand). Moderately abrasive types include glass bead blasting (with glass beads) and media blasting with ground-up plastic stock or walnut shells and corncobs.
The milder version is soda-blasting (with baking soda). At the same time, there are alternatives that are barely abrasive or nonabrasive, such as ice blasting and dry-ice blasting. We have an in-house painting specialist team to ensure top blast and paint quality in the market that complies with the major Oil & Gas industry standard requirements.
Conclusion
These are the metal structure design and fabrication steps we take. If you ever need metal structure design and fabrication services, we are more than happy to help. We are mainly based in Miri, Sarawak (East Malaysia), but we do have offices based in Bintulu, Sarawak and Kuala Lumpur. If you ever need metal structure design and fabrication services, do not hesitate to contact us.
Articles That May Interest You
Common Types of Engineering Services You Can Find With TKR Engineering
Customizable Lifting Services Available At TKR Engineering